One of the options for my trip was starting at the Theosophical compound in Adyar, Madras. However, I have good reason to think I'm not welcome there. Instead a theosophical friend suggested they might be able to get me a volunteer position in Auroville. Despite it not being in North India – where my intuition told me I needed to go (vague as that was) – I still liked the idea. So I did what I do when I want to know more about something, I ordered three books about the tradition of Sri Aurobindo and The Mother. Because it's in their tradition that Auroville has been founded. I already knew that much, but not much more.
As wikipedia says:
Auroville (City of Dawn) is an "experimental" township in Viluppuram district in the state of Tamil Nadu, India near Puducherry in South India. It was founded in 1968 by Mirra Alfassa (since her definitive settling in India called "The Mother") and designed by architect Roger Anger. Auroville is meant to be a universal town where men and women of all countries are able to live in peace and progressive harmony, above all creeds, all politics and all nationalities. The purpose of Auroville is to realize human unity.
The first of the three books I read was the biography of Sri Aurobindo by Peter Heehs. I liked it and admired the man described. However, when I made my online review of the book, I found out there was heated debate in India over this book. One state has even banned it! Those who know me in theosophical circles know I've had my share of controversy. So my first response to this was: well, if they want me to do volunteer work there, despite my review, who am I to say no to the opportunity?
However, I soon changed my mind. It's one thing to be in the thick of controversy in a tradition that's your spiritual home base as it were: theosophy. Quite another to come into an ashram that's teeming with controversy, as an outsider to the tradition. And yet, I have a firm opinion, and I'm hardly one to quietly go about my business. In short I was like: who am I to but in on this? And how can I avoid butting in, being who I am?
So, I decided NOT to go to the Auroville Ashram.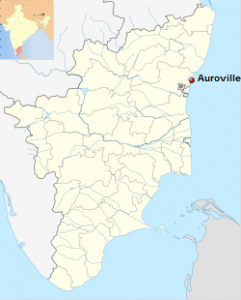 Still, the story of Auroville is quite interesting. Let's start with the official aims of Auroville, as The Mother formulated them:
Auroville belongs to nobody in particular. Auroville belongs to humanity as a whole. But to live in Auroville, one must be the willing servitor of the Divine Consciousness.
Auroville will be the place of an unending education, of constant progress, and a youth that never ages.
Auroville wants to be the bridge between the past and the future. Taking advantage of all discoveries from without and from within, Auroville will boldly spring towards future realisations.
Auroville will be a site of material and spiritual researches for a living embodiment of an actual Human Unity.
However, despite The Mother's warnings against it, Auroville is now owned and controlled by the Indian Government, following a long conflict between Aurovilians and the Sri Aurobindo Society.
Auroville has it's own 'currency', several businesses on the estate and of course a website and even an affiliate program for their products (so those selling them online can make a bit for themselves as well).
Auroville is an interesting experiment, but not for me right now. I'm pretty much decided to go to Dharamsala in North India, and also perhaps to Rishikesh, also on the foothills of the Himalayas. Both places are likely to be cool enough for my health, and are touristy enough that I can continue doing my online work while I'm there. In Dharamsala I plan to study Tibetan Buddhism. In Rishikesh yoga and The Yoga Sutras. I may even take up formal meditation.
If someone can advise a good yoga teacher in Rishikesh, I'd love to hear it. I know some Sanskrit, and have studied the Yoga Sutras in theosophical circles, so I'm not starting completely from scratch.
Notes on names
In India all things have old names and new ones, and various spellings to confuse things even more.
The town of Pondicherry is called Puducherry right now. It's south of Chennai, formerly called Madras, in the state of Tamil Nadu in South India. Puducherry is in the disctrict of Viluppuram, also known as Villupuram and Vizhupuram.
Sri Aurobindo's name has such alternative spellings as: Aravind, Arabinda, Aurobindo, Arvind, Aravindhar, Aurobindo Ghosh, Shri Aurobindo etc. His last name is usually spelled Ghoshe or Ghosh.
{ 8 comments }